5 ways for road contractors to be more profitable during COVID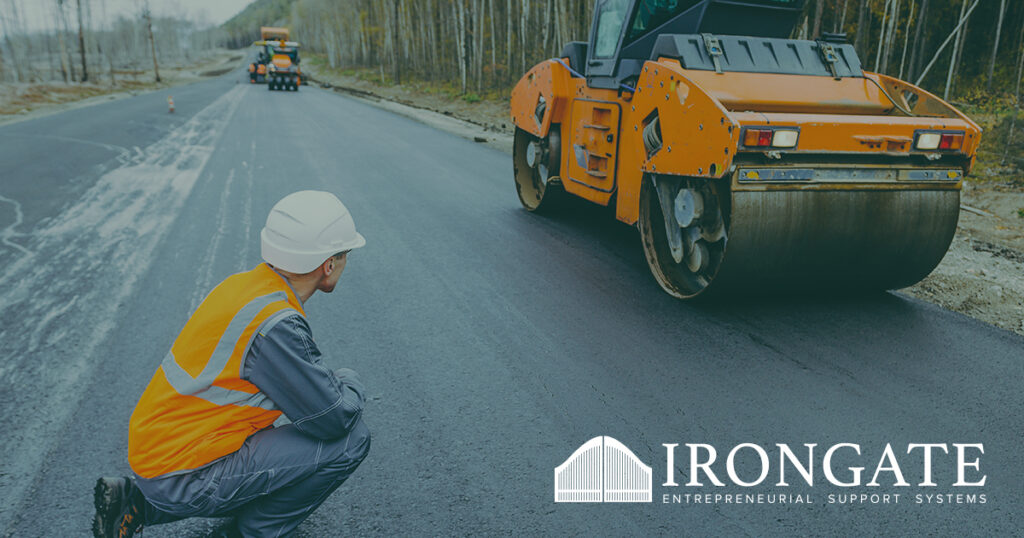 It's been two years since the start of COVID-19, but we're still seeing the effects in our lives and across industries. While certain aspects of the pandemic seem to be coming to an end, we'll likely be enduring the after-effects for the foreseeable future. The construction industry in particular is still dealing with many ongoing challenges. In the current market, are there ways for road contractors to be more profitable?
We recently attended the World of Asphalt conference in Nashville, TN. Preparing for the conference got us thinking about what road contractors, and contractors in general, can do to continue building profit and protect themselves from increased costs, labor shortages, and other issues we're facing in today's climate. Keep reading for the top five tips we've gotten from industry experts.
Make maintaining your equipment a priority.
"Minimize equipment downtime by keeping the equipment maintained and training the operators. If you don't spray, you don't pave."

Brian Horner, Director of Sales, Etnyre International Companies
Keep spare parts on hand
If you've had to order a part for a piece of equipment recently, you've likely experienced the effects of the supply chain issues that are so prevalent today. If a part is available at all, it will likely take longer than expected to get to you. As we head into Spring and a busier season for many contractors, plan ahead when possible. Order and keep spare parts for your equipment so you have them on hand should you need them. Being proactive can save you a lot of stress — and money, because if you don't have operating equipment for the job, you're not going to complete it and you're not going to get paid.
Train your employees to operate and maintain equipment properly
Because it's more difficult and expensive to repair or replace equipment today, it's important that your employees are trained properly when it comes to using and maintaining their tools. It's worth taking some extra time on the front end to ensure they know how to operate equipment and keep it in good working condition.
Keep a careful eye on your job costs.
"Be aware of the cost of your work in progress and pay attention to your Work In Progress report. The cost to complete these jobs has gone through the roof."

Wade Carpenter, Carpenter and Company, CPAs, PC
Are you tracking the costs associated with each individual job? In today's environment, it's more important than ever to do so as the cost to complete continues to increase for most contractors. If you're not carefully tracking the prices you pay for materials, you could be artificially inflating your percentage of completion, your profit, and your revenue. Down the road, those miscalculations can affect your ability to get bonds and grow your business.
Write your contracts and bids to protect yourself from increasing costs.
"Lock in costs and align your purchasing contracts with your bid and sales contracts. Project cash flows at least a year in advance."

Stephen Brown, McDaniel Whitley Bonding and Insurance Agency
The best way to avoid issues in the middle of completing a job is to make sure your contracts and bids are thorough and include language that will protect you from significant cost escalation, labor shortage issues, or unexpected delays. The best way to make sure your contract will cover your costs is to have your job costing in check. You can also talk to your lawyer about what protections you should be including in your contracts and bids during this especially unpredictable time.
Attract new hires by highlighting the great things your employees are doing
"Celebrate your current team's successes while showing your employees as the heroes. Use social media advertising to recruit and retain skilled workers rather than posting pictures of your jobs. Have people think 'That's a great place to work' when they see your posts."

Jeani Ringkob, StoryBuilt Growth Advisory, Execution and Marketing
Another issue many companies are currently dealing with is the labor shortage. When everyone is looking for the right people for their team, how can you attract good employees? You need someone who will help implement the strategies outlined here. Building a good team can take time. Sharing your company's culture on social media and job platforms is a good first step.
Rather than just showing what your company is doing, try sharing content that celebrates the work of your employees. Show prospective employees why your company is a great place to work, rather than just telling them. A good company culture is a must when it comes to hiring and retaining team members with the skills, experience, and work ethic necessary to help your company grow.
Now is a great time to implement some new strategies in your business as we continue to face uncertainty and ongoing challenges across industries. For more in-depth conversations on profitability, growth, and success strategies for contractors, make sure to check out the Contractor Success Forum podcast or reach out to any of the experts featured in this post.